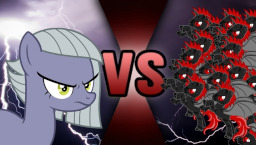 For a millennium they have lurked in darkness, sustaining their deathless (~42%) legion through dank rituals and planning their return.
Now they are driven from their lair by a shortage of the essence that sustains them, and only one mare stands in the way of their inexorable conquest of Equestria.
The good news is, that mare is Limestone Pie. And she is having none of their noise.
---
This story appeared in the March 2017 Writeoff, "Rising From the Ashes"! Cover art sources: 1 2 3 4.
Chapters (1)