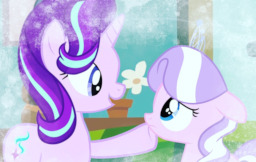 This story is a sequel to "Teach Me Goodness"
---
Summer vacation has come and gone, and school's back in session, only Diamond Tiara isn't interested in attending if Cheerilee isn't standing at the front of the class. Her solution? Hire Twilight as her teacher.
Except it's not Twilight she runs into at the castle.
---
(Winner of the Pinkie Pie award for Scribblefest 2017!)
Chapters (1)