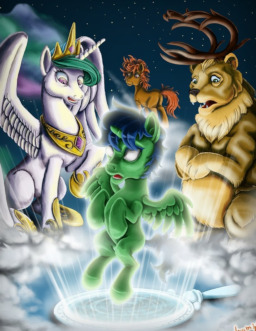 Source
The ponies of Equestria know Harmony as not just an ideal, but as a force that actively shapes their existence. It guides them through their lives, brings them prosperity and ensures good will triumph over evil most of the time.
However, exposure to it can be unpredictable for those crossing over from other realms. Sufficiently long stays in Equestria can even lead to a change of form to one indigenous to the land.
And those unlucky enough to be slated to become a source of Harmony itself may find themselves unable to leave.
Translation: This fic contains the gradual transformation of a human (male) to a very young alicorn filly.
Set just before Season Five. Non-Earth human and an Equestria that's slightly different.
Cover Art by the talented Mix-up check out his work here: http://amalgamzaku.deviantart.com/
Chapters (37)