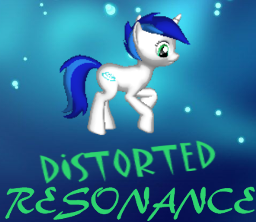 "Crystal Synergy used to be a middle-aged brony before she abruptly appeared as a young filly at the spot where lightning had struck the ground out of the clear blue sky, roughly two years before the Sonic Rainboom. She only wants to help. What could possibly go wrong?"

"I can't believe you just said that, Pinkie..."

Crystal has lived ten years with fading memories about My Little Pony: Friendship is Magic canon and fanon, the first two of which were spent unable to make any but the most illegible notes as she tried to keep them separated in her head. Not helping matters is the fact that while things mostly seem to be lining up with what she thinks is canon, there is a difference between events as presented in the thirty-minute blocks of a show aimed at a younger demographic (and intended to help sell toys) and living in that setting as a real world with a dynamic history. And she's not quite sure which version of Equestria she's actually in, but things seem to be just enough like what Crystal Synergy believes to be canon that she thinks she has a fair idea of what may happen, and how to help navigate or circumvent some of the more worrying problems looming on the horizon.
A little foreknowledge couldn't hurt, right?
A little foreknowledge can prove to be a very dangerous thing indeed. Especially when you aren't sure which bits of foreknowledge are actually true. And just ignoring the foreknowledge doesn't help either, because some of it is true...
A bit of a grab bag of categories: AU and Human should be self explanatory, but Random was selected because the story fluctuates between serious and silly, adventure and slice-of-life, and black-and-white values vs. blue-and-orange values.
[img]https://i.postimg.cc/sDLsnphg/Princess-Columbia-s-List-Badge.png[/img] Featured on Princess Columbia's List on 9/25/2019
Chapters (11)