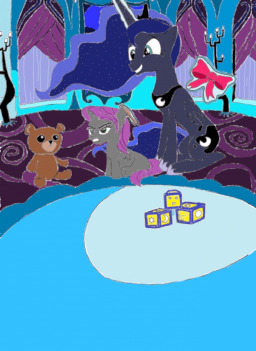 This story was inspired by 'The child in me by Zamairiac' it is a really good story you should check it out.
This story takes place after season 5.
A 19 year old named Alex Jones, who has had an unhappy child hood. His father died, his mother has ignored him for best part of his life.
Somehow Alex ends up stuck in Equastria in the body of a 5 year old Alicorn foal of the opposite gender. Where he might get a second shot at the childhood he has never had. That's if an overly clingy Luna who has always secretly dreamed of being a mother, doesn't end up making him wish he/she want his/her old life back.
What choice do you think Alex will make!
P.S. I did the cover my self.
Chapters (8)