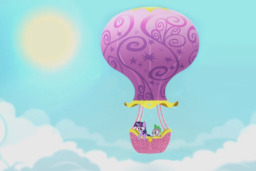 The opening titles of MLP have always felt like they were from a different version of the show. This is that version...
Fed up with being useless at magic, a blank-flanked Twilight Sparkle does the only thing she feels she can do... she runs away. Fortunately, she has a good friend along for the ride...
Now has a sequel: Nightwaker, which presents the return of Nightmare Moon in this timeline.
Featured 10/16-10/19/2018 -- thanks, everypony, for your kind support and feedback on this version of the pilot story!
Chapters (1)