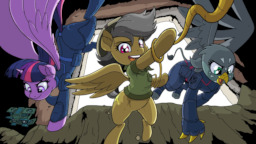 Source
This story is a sequel to XCOM: Ranger
---
With the fate of her friends on Earth hanging in the balance, Twilight has to hunt myths to figure out a way to cure Sunset and save Templar Laetitia.
Taking Daring Do as her guide—and accompanied by a ragtag team of griffons, a Skirmisher-turned-breezie, and Rainbow Dash—Twilight must travel across the lands at war with the Storm King, to reach Ancient Fleece, find a lost city, and obtain the legendary sword of King Disc Ovis: The Algae Photis.
Cover art created for this story by the talented: LateCustomer
---
Before you read: This is a side-story to XCOM: Ranger.
I will provide all possible information needed for those that do not have the time—or inclination—to read the other story to still be able understand this one. It's a LOT of info, however, and I'm not just going to dump it all in one go. The backstory will emerge as the story progresses.
Chapters (18)