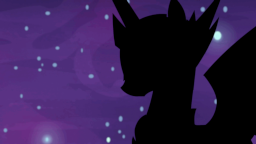 Summary
When the Goddess spoke to her, Celestia learned she was going to die. It was not the only knowledge she gained with the Goddess's gift.
She learned that she was not the original Celestia, who had died more than a thousand years ago, right after concluding her bargain with the Goddess. The greatest achievement of her life.
She learned her true date of birth. Eleven years ago, seconds after a young filly named Rainbow Dash completed her first Sonic Rainboom.
She did not learn her true purpose. Yes, the Goddess had whispered it to her along with the other parts of Her gift, but Celestia had already known it. She always had.
---
Author's Note
Why does Celestia's personality change so much between seasons, going from a distant immortal goddess to an exhausted retiree aunt?
Why do Celestia's abilities go from omniscience and raising the sun to being helpless in a fight against an old has-been, a weird bug, and a racist child?
Why can't Celestia act to save her life?
Why is Equestria always being saved just in the nick of time?
Why exile Nightmare Moon for a thousand years?
What's up with Daybreaker?
Anyway, this is my headcanon for all that, and more. Enjoy!
Thanks to Reese and Fillyfoolish for feedback on the first draft.
---
Chapters (8)