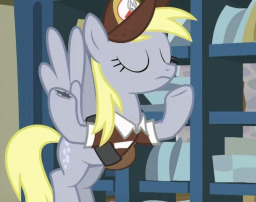 Sugar Belle, Sweetie Belle, and Bon Bon don't know what's worse: the fact that their mail always gets mixed up or how annoying they find each other..
---
Inspired by Sweetie Belle's characterization in Forever Filly, my never-ending and passionate love of LyraBon in all its forms, the main plot device of The Break Up Break Down, and Sugar Belle's voice. RIP MarbleMac.
So close to that E rating, until that last section sent it over the line, ugh. I will get there one day...
Chapters (1)