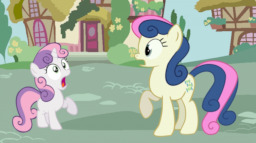 Cover are a combination of images from here here and with the background from here.
Bon Bon had honestly thought her life as a secret Agent wouldn't come back to haunt her. But, when the Bug Bear returned, she became worried. She meets with Celestia after the wedding, asking if there is anything she should be concerned about.
What Celestia tells her, shocks her to the core. She has a daughter, a clone created from her own DNA from her Agent days on the off-hoof chance she would need replacing. When the agency dissolved, the clone was given to a family, Celestia not knowing Bon Bon hadn't known the clone was still alive or whether or not she'd wanted to keep her as her own daughter.
Now, Bon Bon must find a way to break it to the filly that her life has been a lie. She isn't the pony she thought she was and her family are, tehcnially speaking, not her family.
Motherhood was never said to be easy. Well, when your daughter's a clone of yourself and has lived all her life unaware, it's even harder.
An idea that popped right into my head after a comment Black Gryph0n made during the Bronies React 100th Episode.
In Popular Stories 1-4/8/2015.


Wow! Thanks, guys!

Chapters (1)