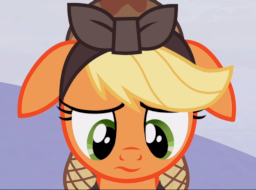 This story is a sequel to Sisters
---
Info
A Quills and Sofas Christmas Fic Exchange gift for applejackofalltrades with the prompt "gimme any applejack ship but DONT make her straight :gun-2:", spruced up from its first draft. Inspired by Space_Kase's amazing Past Tartarus and Back, which you should really be reading instead.
Thanks to daOtterGuy for convincing me to kill many, many darlings by not adding back in the scenes I cut from the initial idea, and to Emotion Nexus for help with the shortdesc.
Longdesc
In the future of the Crystal War timeline, King Sombra has finally been defeated. But the war being over just means that its wounds can only begin to heal, and all Applejack can do is give Pinkie the home that her family's rock farm can no longer be.
Sequelness
While this is a sequel to Sisters, it can be read as a standalone without missing anything.
Chapters (1)