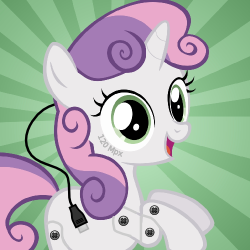 The Evil Robot Empire has fought Equestria for centuries. Imperial secret robot agent, Lyra Heartstrings, has been sent to Ponyville to infiltrate local cult of Smooze worshipers. To achieve that, with help of her trusty henchpony Bon-Bon, she kidnapped a little sister of one of prominent cult figures and replaced her with her robotic doppelganger.
Say hello to SweetieBot.
Nothing can go wrong, am I right?
(This is technically Friendship is Witchcraft fanfiction, but knowledge of that abridged series is not required to enjoy this story.)
Chapters (10)