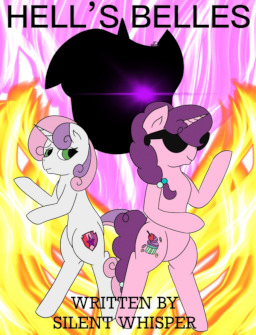 Everypony has secrets. For Sweetie Belle, it's her sister's relationship with a certain princess that shall not be named, or else. For Sugar Belle, it's that she may or may not be a secret agent, and Equestria may or may not be in danger. Together... well, it wasn't like Equestria could be much more doomed, could it?
---
Art by the phenomenal Snow Quill. She does commissions, and is also amazing, so go check her out!
Also, thanks to Zontan for reading this over and telling me it's batshit, and to PearlescenT for being a voice of reason in an otherwise unreasonable world (and for telling me that this is the sort of garbage people might actually enjoy).
Sex tag added for implied sexual relationship between two characters. T-rated because apparently you can't swear in the description without it being rated as teen, so whatever.
Updates whenever I remember it exists, apparently.
Chapters (6)