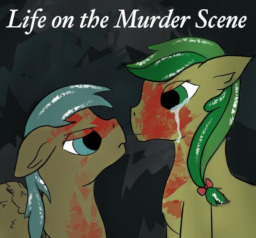 Source
Updates Monthly
Featured in sandbox on 7/11/20!
"And that's how we like to do it on the murder scene."
Raindrops "Killjoy" Merryweather is many things: a borderline vigilante, reckless bounty hunter, and probably a horrible pony. She's not, however, a hero. But when a close friend is murdered, Raindrops takes it upon herself to avenge his death. She isn't going to let the law, the cops, or her friends get in her way.
Raindrops isn't a hero: she wasn't one before, and she surely won't be one now. But she'd rather be a villain than be nobody at all.
---
This story is a spinoff/extension of PonyJosiah13's Ponyville Noire series. Knowledge of that story isn't necessary but I recommend you read it anyways.
Thanks to Seriff Pilcrow, Silent Whisper, Vis a Viscera, hawthornbunny, and Mykola for prereading various parts.
Thanks to EverfreePony for once again editing and prereading.
Chapters (7)