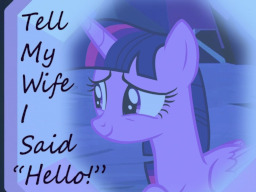 Being kidnapped is the least of Twilight's concerns.
---
Thank you to The Legendary Bill Cipher, Shaslan, Wishcometrue, Flashgen, Snow Quill, Zontan, Red Parade, MasterThief, Moonshot, themoontonite, Vis-a-Viscera, Knox Locke, Equus, and Novelle Tale for prereading, editing, and being generally good people.
---
This story was written for the Quills and Sofa Speedwriting Group, for their Plain Jane Contest. Wanna know why so many of our stories are great? Wanna meet some truly inspiring people? Wanna write something that you have no doubts about, ever? We do, too! Come figure that out with us on our Discord.
Chapters (1)