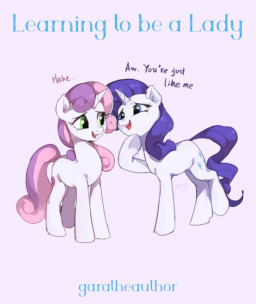 Ladyhood is a concept that Rarity knows well, so there's no better pony to teach Sweetie Belle the ropes when she comes of age.
Though, Sweetie had no idea that adulthood would be so scandalous.
---
Proofread by RoMS, the only rational member of my polycule.
Cover Art was done by LA-ndy, so many thanks to him for allowing me to use this piece. You should really give him a follow on Twitter.
This was written for a Quills & Sofas event.
Holy smokes, this got a live reading by StraightToThePointStudio, that's kind of POG.
Chapters (1)