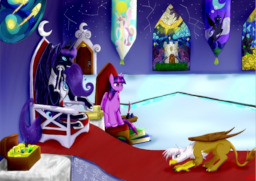 This story is a sequel to Imperial Affairs
---
A thousand years ago, a War has started. The War that just found a resolution. With Princess Celestia accepting defeat and her new place at the court, and the new Empress forming a reluctant understanding with the Element Bearers; the time has come to move on. Nightmare Moon found herself on the top of the world with no enemies remaining. Ponies reluctantly accept their new leadership, Princess Luna still has a legitimate claim. Little do they know, for their beloved Princess long since ceased having a word on what goes in the court.
---
Also, go ahead and check out my editor, MLE. She's awesome and worthy your time, I promise. Don't forget about The_Darker_Fonts too, both help a lot.
Cover by the wonderfully generous Hypocritic Oath.
Chapters (54)