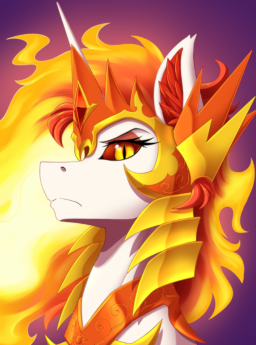 Source
She wanted peace. She wanted diplomacy. She wanted harmony and friendship.
She got war.
With the armies of the Changeling Lands marching through Equestria, overwhelming any and all resistance they encounter, Princess Celestia has had to resort to increasingly drastic measures to save her country and the ponies that live in it. But while her sister leads the armies from the front and her ponies fight and die in the name of princesses and country, Celestia feels useless and inadequate in Canterlot. After all, she was supposed to protect her precious little ponies. How had she failed them so badly?
Those doubts and worries gradually gnaw away at her, day after day and month after month. Until one day, she reaches a tipping point, the point of no return:
She will save Equestria, no matter what it takes.
[An Equestria at War story]
---
Chapters (1)