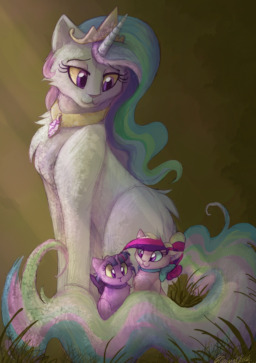 Source
Twilight is very excited to have perfected a new transformation spell. While trying it out on Cadance, however, an ill-timed sneeze turns everypony in the room into cats, including Princess Celestia.
Stuck in the form of a tiny (and adorable) kitten, without access to magic, Twilight has to find a way to fix everything, all while dealing with her growing feline instincts, the hazards of a pony-sized world, and a Princess Celestia who seems to have forgotten she ever was a pony.
This story was commissioned by DbzOrDie. It features cover and interior art by the talented Elbdot.
Chapters (1)