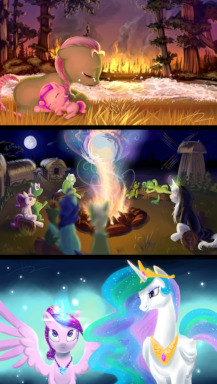 Source
Orphaned as a filly, a young pegasus named Kaviyayu is raised by an adoptive Earth pony family in a secluded, peaceful village. When a strange unicorn drops by the village, Kaviyayu and the other foals are captivated by her tales of the world, as well as her various spells and illusions for their amusement. But there's something about the way she doesn't speak of her own family... how she never removes her traveller's cloak... how she seems to take a very strong interest in Kaviyayu...
Who is this mysterious mare, what does she seek, and just what is so special about that pendant she wears?
This is the tale of how a seemingly ordinary filly rose to become both a princess and a beacon of love to ponies all over Equestria. Based on the back-story of Princess Cadance, as given by G. M. Berrow's pony novella, Twilight Sparkle and the Crystal Heart Spell. Also loosely inspired by symphonic metal band Nightwish's sixth studio album, Dark Passion Play.
---
Cover art by the lovely Ayemel.
Now with its own musical accompaniment courtesy of The L-Train!
Pre-reading by Noble Thought, Prak, The Albinocorn, ThatOneWriter, JustAnotherTimeLord, vren55, Majin Syeekoh, Foals Errand, Comet Burst, and Chris. Edited by ChromeMyriad, Titanium Dragon, Noble Thought, Prak, NightWolf289, PresentPerfect, and Chris.
Now featured by:
Fimfiction.net (Feature Box, 01/01/15)
Equestria Daily (01/19/15)
The Royal Canterlot Library (Off-site) (07/13/18) (Onsite) (07/20/18)
Approved by Tag-a-long's Book Club!
Approved by Nonpareil Fiction!
Highly Recommended by PresentPerfect!
Recommended by the Pleasant Commentator and Review Group!
Chapters (11)