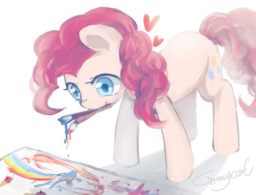 Source
Rainbow Dash is heading to Wonderbolts Academy. But before she does, Pinkie Pie needs to give her the best gift ever. Something that captures their friendship. But what?
Pinkie Pie has an idea.
---
Written for the EqD Friend-Off. Pre-read by Zodiacspear. Marked AU just to be on the safe side.
Chapters (1)