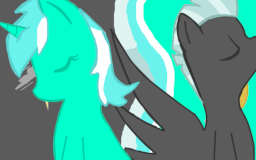 Lyra Heartstrings is a mare who often goes about life with her head in the clouds. Always dreaming, always fantasizing about what could be. She sees her friends and so many others enjoying sharing their lives with that special someone, and wishes that she could as well. To find that special someone she can be herself with and not be afraid, even if that self is a less than socially graceful.
When a chance meeting with a stallion—who is often too laid back for his own good—occurs, it brings about that possibility she's been dreaming of. Music was always her secret passion, and now, it seems that the song of her heart might get what she's been wanting.
Or are things too good to be true again?
A huge thanks to Meridian Prime for his time to edit this story, my little niece for the cover art, and all the people in the YMLT chat who had to suffer my numerous brainstorming ideas. Also a huge thanks to my pre-readers Zomg and Foals Errand. All of you rock!
Chapters (6)