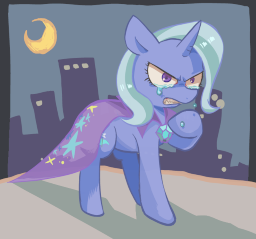 This story is a sequel to Harmony Undone: The Rise of Order
---
Legacy is always defined by the choices that are made in life. For a traveling magician, the show must go on, and so will Trixie—no matter how much it hurts to hear the crowd boo. For a band of adventurers, seeing the scars left behind by Tyranny was not the legacy they wished the world to remember them by. When happenstance brings them together, they seize a chance to right their past mistakes.
Once again, another story helped brought about by my friend and editor Lab. Huge thanks to you! For my pre-reader Meridian Prime, and the folks at the YMLT chat for help with descriptions. You all rock!
12/21/16: Sex tag added for implied intimacy.
10/8/17: Added the Alternate Universe tag due to the revelations of the season seven finale. Refer to this blog for the explanation.
Chapters (28)