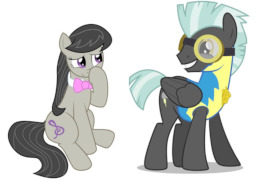 This is an unofficial sequel to the ORIGINAL version of Overture
A READING OF THE ORIGINAL YOU CAN LISTEN TO HERE HERE.
written with permission from Exilo
Thunderlane awakes to find Octiava gone. He hurries out and tries to find her.
At the same time, Octavia sits at home, thinking about the previous night and wondering if she had made a mistake, leaving Thunderlane without saying anything.
Should she have stayed with Thunderlane until he woke? Should she have given him her address? Will she ever see him again? Will he come to her concert, or had she given up her one chance at love?
Featured 21/6/2014
Chapters (2)