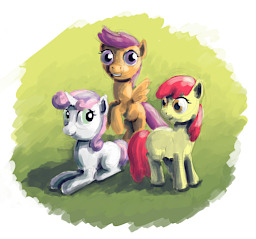 Source
The Cutie Mark Crusaders try and summon a demon.
Unfortunately, they get something far worse.
On the bright side, this may finally get them their cutie marks.
---
Written for the Everfree Northwest Pre-Con Contest, using the prompt "Making New Friends". Pre-read by Carapace and auramane, and edited by auramane.
Special thanks to OleGrayMane for volunteering to give additional and very thorough editing.
Chapters (1)