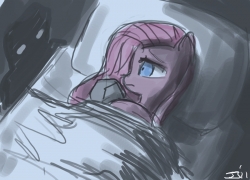 Source
This story was inspired by this comic by swaetshrit.
A pony is the collection of her experiences. But what if those experiences never occurred? As Pinkie's reality falls apart and gives way to a much less party-filled world, she will have to ask herself: Who was I, who am I, and who should I be?
The original versions of the first two chapters can be found here.
Chapters (2)