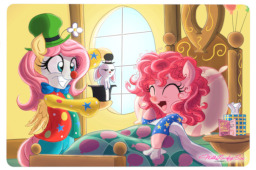 Source
Pinkie wakes up sick one morning, which is just about the worst thing she can think of!
But Fluttershy will be there to make things better. Things are always better with Fluttershy around.
---
Also, check out the artist's deviantArt gallery! His pony stuff is all adorable, and I just went on a massive upvote spree of all his pictures on Derpibooru. Now if you'll excuse me, I need to see a doctor. I think my heart has melted from all the cuteness.
Chapters (2)