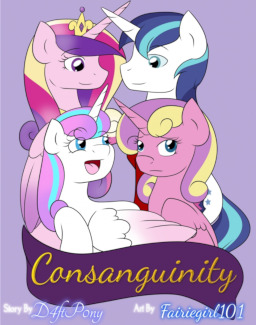 This story is a sequel to Seven Years
---
Family had always been a strange notion to Princess Skyla, and anypony who knew her history would never wonder why the filly had such a vague grasp of the concept. Every memory she had of her family was tainted and dark, the photographs of her life smeared and marred by the decisions made by her mother and father, and she couldn't remember a time when she could even think about the word "family" without a black veil of disgust and sadness drawing over her heart. As such, family was never something that Skyla had ever given much thought, unless it was how she was going to get away from them.
Now, however, family is all Skyla can think about. Princess Cadence and Shining Armor have welcomed her with open hooves into their home, and their daughter, Princess Flurry Heart, is overjoyed to suddenly have a "big sister" to learn about and play with. She hasn't been officially crowned a Princess yet, but despite that the whole of the Kingdom is abuzz with news of her, and all of the Princesses of Equestria have all set aside time to come and see her for themselves...
...but try as she might, Skyla can't shake the feeling that something is wrong. Not with anypony else... but with her. She doesn't know how family is supposed to act around each other when they're not trying to scheme and stab you in the back; she has no earthly idea how sisters are supposed to behave around one another, or how a mother and daughter are actually supposed to talk to one another in normal, every day situations. She's a mess, with her heart and head all tangled up in knots that may never come undone -- and that's even before the nightmares start.
Flurry Heart, however, isn't about to give up on her, and with a little bit of help from a lot of different ponies, she'll work hard to show Skyla that a family isn't about the blood that you share, but about the bonds that you forge.
Chapters (20)