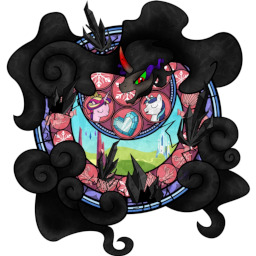 Source
The Crystal Empire has been at peace ever since Princess Cadance and Shining Armor took over its ruling. No more loving couple has ever reigned before, and the Crystal Heart has never generated such power in all of history. But there is a secret that Cadance has kept for many, many, years: a terrible secret with the potential to bring it all crashing down.
This Hearts-and-Hooves Day, Cadance and Shining Armor's love will be put through its toughest trial yet.
---
This story is a side-story to Essenza di Amore. Though set in the same universe, reading of the prequel is not required. Similarly, knowledge of certain events depicted in the book, Twilight Sparkle and the Crystal Heart Spell, will be helpful but not essential.
The extended version of my entry in the Writeoff Association's January 2015 event, the prompt being All in. Now also the second place winner of Nonpariel Fiction's 2015 Hearts and Hooves Day competition.
*Written before the FIENDship is Magic comic series and the Radiant Hope arc of the main comic series*
Preread by Foals Errand, The Albinocorn, RK_Striker_JK_5, Sholan, and Csquared08.
Edited by Foxy E, Dash The Stampede, Csquared08, and NightWolf289.
Cover art courtesy of Akili-Amethyst.
Inspired by this incredible song.
---
Featured on:
Fimfiction.net Feature Box (02/12/15)
Equestria Daily!
Approved by Tag-a-long's Book Club!
Approved by Nonpareil Fiction!
Recommended by PresentPerfect!
Recommended by the Pleasant Commentator and Review Group!
Chapters (1)