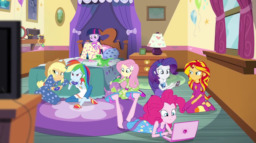 This story is a sequel to Sunset Shimmer's Unpleasant Discovery
---
Twilight Sparkle returns to the human world intending to take a short vacation from her princessly duties, and to catch up with her non-Equestrian friends. One sleepover at Pinkie Pie's house later, Twilight comes to learn something fascinating—and horrifying—about her very human body.
---
This story now has a spiritual prequel: Sunset Shimmer's Unpleasant Discovery, by Bootsy Slickmane, rated [mature]. While mine pokes fun at the characters, his offers the more serious take.
Preread by Stiggerzz and Majin Syeekoh.
Rated Teen for sexual references.
Featured on:
Fimfiction.net Feature Box (11/01/2014)
Chapters (1)