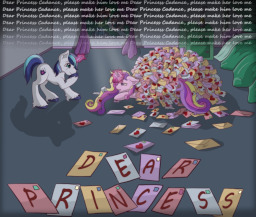 Source
Princess Cadance loves Hearts-and-Hooves Day. She does not, however, love the hundreds of letters sent to her every year from desperate and dateless ponies who misunderstand how her special talent works.
Still, not every letter contains a blatant request to remove another's free will. Some just ask for simple advice, or hold the naive-yet-innocent wishes of the young. And then there's a letter from a married writer who just wants his anniversary to be super special.
Although Mi Amore Cadenza is not the almighty angel of love that most ponies think she is, she might be able to help these select few writers.
---
Set after Rainbow Rocks, but before season 5.
Preread by Syeekoh, TheSlorg, Derpator, and Themaskedferret.
Edited by NightWolf289, PaulAsaran, and PegasusMesa.
Cover by luv4horsez.
The result of an old writing challenge between myself and TheSlorg. Character tags are final, but not all are currently present.
Happy Valentine's Day!
Chapters (2)