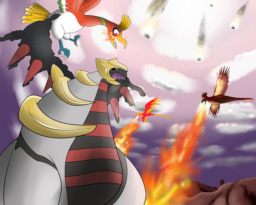 Source
This story is a sequel to Burning Day Brethren
---
A full year has passed since Philomena's last rebirth. While recounting memories of that day in the Unbecoming realm, Philomena's Sacred Ash pendant—a keepsake from Ho-Oh—spontaneously ignites and glows. Minutes later, a colossal behemoth from another dimension tears a rip through interdimensional timespace and begins to besiege Equestria.
Knowing full well the possible consequences for doing so, Fawkes and Ho-Oh follow Giratina through the rip from the Unbecoming. Desperate to stop it, they must ensure the safety of Equestria's own race of fire-birds and make a stand against the destructive, ghostly dragon. But Giratina is not alone; others have joined it who also desire the permanent downfall of the phoenixian race.
While Giratina mobilises its own personal draconic army, the trio of flaming avians must formulate a plan to bring Giratina's desires to a standstill. For if the Unbecoming's bath of rebirth is ever destroyed, no phoenix in existence may ever be reborn again...
---
Set during season four and discounting any forthcoming new canon.
Preread by vren55. Edited by NightWolf289 and MissingLink.
A collaboration with my good pal, Comet Burst.
Rated Teen for violence and small amounts of gore.
Now featured on:
Equestria Daily!
Chapters (7)