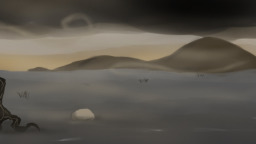 When Starlight tampers with the past and prevents the Sonic Rainboom, it is up to Twilight to stop her. Their conflict, however, becomes one uphill struggle after another. Twilight and Spike have endured countless changes to the present. Whether it be an Equestria ruled by King Sombra, or their whole society being reduced to tribalism in the wake of the changeling attack, there seems to be no way for Twilight and Spike to resolve this situation peacefully.
In the aftermath of their fight, they find themselves trapped within the barren wastelands of Equestria. Now, they must find a way back to the past and set everything right before all hope of a bright future for them is lost. Will they succeed, or will the harsh environment of the wastelands be the end of them?
---
This is the first of three stories lined up in my 50 follower special, written as thanks for all the support that I have been given since joining this site. Thank you!

Proofread by princeps, a simply amazing friend.
Chapters (1)