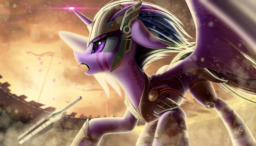 Source
Twilight Sparkle was banished from Equestria a long time ago for a crime she didn't commit. The rest of the Mane 6 have been searching for her to tell her that she can return. When they do find Twilight, they realize that the trials of surviving outside Equestria have changed their old friend. Not all the changes are necessarily good.
As they return to Equestria, they must figure out who is opposing them. Shadows lurk in every corner, enemies watching for a single misstep. Not to mention, Twilight's shadows are creeping up on her. But even if they do manage to face the trials and troubles, do they have what it takes to face what awaits them back home?
---
If you want to chat to me, we have a discord server here!
---
My first try at a story. If there's any grammar, vocabulary, or any kind of mistakes, comment down below and I'll try to fix them. Suggestions welcome in comments! Updates will be irregular, but I'll try not to leave it for more than a month or two at the most(this is a lie)
Editing team: Stinium_Ruide
People who've helped me before:
Ex-coauthor: computerneek
Ex-editor: Holtinater
Making it clear here, the people who used to help me could no longer do so due to irl issues, I am still on friendly terms with them, not to worry :)
Chapters (27)