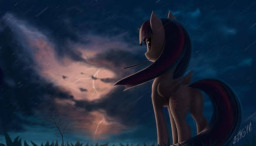 Source
Sombra has won, and the Element of Magic is presumed dead or missing. Equestria has assumed the former. As the country prepares to defend itself, there is a rumor of a weapon that Sombra has that forces Celestia and Luna to rethink their defence. When they think they cannot have worse news, they find out that not everyone in Sombra's army is brainwashed.
---
Twilight was Sombra's prisoner. And yet, he hadn't killed her. Instead, he presents to her an offer that will change everything.... but she still has a plan in mind.
Have you ever heard of the saying, "The ends justify the means"?
---
Written by iAmSiNnEr
Cover Art by Zig-WORD
I am unsure if this will work. Hmm....
Updates are completely irregular, my writing schedule is

If you have any comments, advice or notice any grammar mistakes, do leave them in the comment section below, I'd appreciate them :)
Chapters (2)