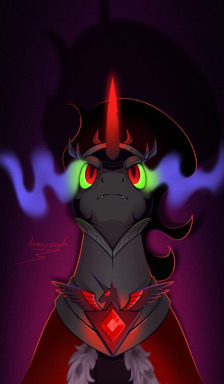 Source
It has been 15 years since King Sombra was defeated and the Crystal Empire was saved, but one faithful night, at the Grand Galloping Gala, commemorating Princess Twilight Sparkle's 15th coronation anniversary, the festivities are disrupted by a clan of shadowy, pony-like monsters and a mysterious swirling black hole opens up in the sky, growing in size every minute. Further investigation reveals a horrifying surprise, King Sombra has returned....
With the fate of Equestria once more in their hooves, Twilight and her friends travel from their home to the undiscovered west to seek out a long-lost Equestrian ally to aid them in their quest to save the kingdom from Sombra and his new Umbrum army. Along the way, they'll uncover the mysteries surrounding a new type of magic, and a tragic story of love and corruption.
Inspired by Skybolt and The L-Train's symphonic metal operas, "Fall of an Empire" and "Moonrise".
Cover art by bronyseph.
Chapters (5)