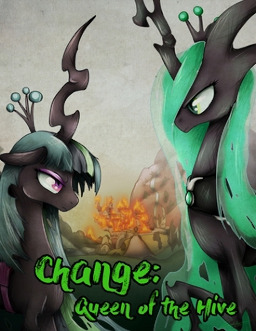 This story is a sequel to Change
---
There are many changeling hives spread throughout a large portion of the world. Wherever love energy is going to be found the changelings will pursue it.
But now, one by one, they are disappearing.
Many hives located at the very outer edges of changeling inhabited lands are vanishing without a trace, Twilight Sparkle's family history has returned to haunt them all as something is hunting the changelings down. But how? And for what purpose? And more importantly, what does this mean for Queen Twilight Sparkle and the rest of the changeling race?
Edited by RC2101_Copey.
Cover Art was designed by Jesuka.
TVtropes Page: http://tvtropes.org/pmwiki/pmwiki.php/Fanfic/ChangeQueenOfTheHive
Physical copy: https://www.fimfiction.net/blog/806366/change-queen-of-the-hive-physical-copy
(Featured on the first day, 6/11/2016. Awesome!)
Chapters (70)