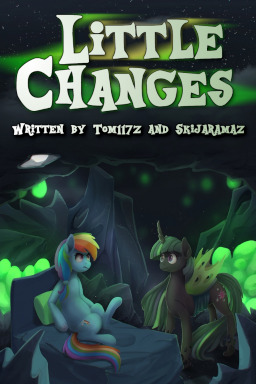 Things have changed.
When Rainbow Dash unexpectedly arrives at the Badlands Hive, her open displays of hostility leave Princess Twilight Sparkle and Queen Chrysalis perplexed. The situation only devolves from there as differences in this Rainbow Dash are discovered, and it soon becomes apparent that two worlds have collided that were never meant to meet.
Twilight and Rainbow, each with scars both physical and mental, have to find common ground before time runs out. If they can't, then the pegasus may become stranded in this world of changelings forever.
---
A crossover between the Little Flashes series and the Change series.
Cowritten with Skijarama.
Featured on: 04/11/2019.
Chapters (29)