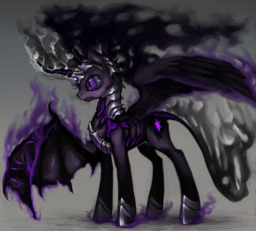 Source
Twilight Sparkle, Element of Magic, Hero of Equestria and first casualty in the Changeling war. When she passed she became the rallying cry for the Equestrians in the short lived war. When Chrysalis attempts a surprise attack on Canterlot a mysterious figure in armor appears and slays Chrysalis in front of the princesses. Now it's time they learn that anyone can change.
For better or worse.
Big thanks to Nightcloak for the huge help in editing this train wreck of a story.
This Story was featured on 7/28/2018
Thank you to everyone who has read this. I never thought this would happen and am honored beyond words.
Chapters (10)