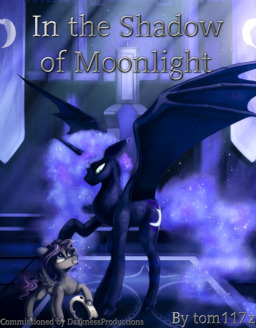 The night reigns eternal.
Nightmare Moon sits the Equestrian throne from her castle in the City of Everfree. From there, her rule is undisputed and unshakable. Ponies tremble beneath her, both for her wrath and necessity, her magic all that is keeping the tidally locked world alive. With one side facing away from her sister's hated sun, and the other obscured in a veil of shadow blocking almost all light, by her grace alone does enough warmth peek through that Equus and its peoples might yet live.
It is a reign of terror. Of fear. Absolute and unmoved.
Until she met the foal. Then Princess Luna began to find something she had been missing for far too long...
---
Commisioned by DarknessProductions.
Cover by Eugenia Mackiewiez.
Chapters (1)