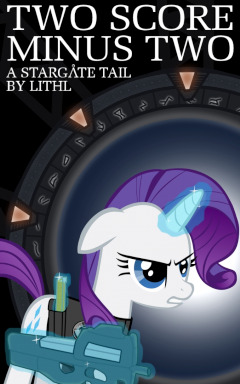 Source
Stargate Command is Earth's first line of defense against a hostile galaxy. Their mandate is "to seek out and recover intelligence and technology to assist Earth in its defense against these aggressors." It's a dangerous job, and SGC's mettle and defenses have been tested before. All past incidents were resolved successfully, with the normal citizens of America – and the world – none the wiser. But...
This one may just take the cake. After SG-1 returns from a routine reconnaissance mission, bringing back a curiously intact artifact from an abandoned alien city, people begin to transform. When the changes spread across the planet, the SGC faces the prospect of losing control of the secret they've kept for over a decade.
---
A story in the theme of Five Score, Divided by Four crossing over with Stargate SG-1. This story is not canon Five Score; for example, Five Score takes place in 2020, while the final season of SG-1 takes place in 2007.
Huge thanks to totallynotabrony for the cover art!
Credit to Lord of Dorkness and totallynotabrony for editing assistance, as well.
Chapters (10)