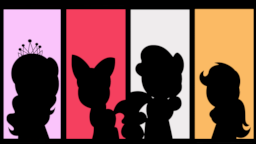 One day five fillies are wandering through the forest and slaughter a pack of timberwolves, impressed, the god of chaos offers them a chance to go to a monster-hunting school, little do these fillies know that they are about to enter a world of bloody evolution.
Faced with discrimination, criminals, terrorists, and unending hordes of abominations led by a wicked witch, how will four foals survive? And how will this new team change the world of Remnant?
[Note: I've decided that every 50 likes, I'll release another chapter in a row, instead of following the usual schedule. PS, New chapters every Monday and Friday, since, with how chaotic my current situation is IRL, those are the only times I can upload.
Chapters (21)