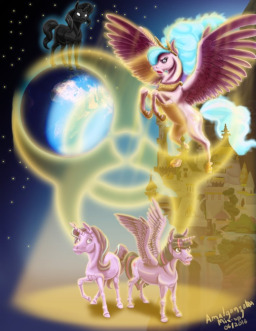 Source
Lazy Pines is a small town in the high country of Colorado, easily overshadowed by the bigger sights to see along Colorado State 9. When influenza strikes the town hard, it is little more than a statistical blip in a typical flu season. No one thinks any more of it as the initial wave of infection passes ... until the other symptoms begin to manifest.
Meanwhile, during what should have been a routine trip to Canterlot, Twilight Sparkle stumbles upon a strange anomaly which turns into an all-consuming mystery. As she discovers the complex web of magic stubbornly maintaining this mystery's secrets, she grows worried what it could mean for herself and her family.
And as the residents of Lazy Pines struggle to understand -- or even believe -- what is happening to them, two worlds have irrevocably been set on a direct collision course.
Updates every other weekend.
Cover art by Mix-up. Please check out more artwork by this talented artist.
Now has its own TV Tropes page thanks to redandready45.
Chapters (57)