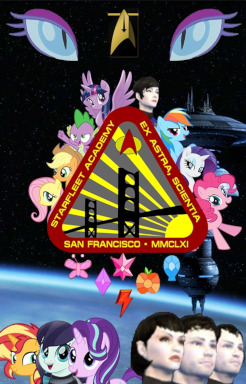 In the year 2152, the United Equis had launched it's first ship. Since that time it has developed warp drive technology, made first contact with alien species, and has joined the United Federation Of Planets. Now, in 2252, 100 years after the launch of the Equis, UE's first space craft, it's time for Equis to send its first cadets to Starfleet Academy on earth...
Join Jessica Cosmos, her twin brother Luke, Twilight Sparkle, Applejack, Fluttershy, Rarity, Rainbow Dash, Pinkie Pie, Sunset Shimmer, Starlight Glimmer, Rara Coloratura, and their dragon assistant Spike as they go through starfleet academy and learn just what it means to be a friend on top of being an officer
This is based on my STO, discovery starfleet human character. this will follow her adventures, plus, love is in bloom because I ship like crazy and can't help myself.
Ships:
OC:TS
R:PP
SS:SG
RD:F
A:RC
Changes made in this AU:
Set in STO timeline with MLP's musical element(because you can't have MLP without songs apparently), Starfleet discovery character
Everything pre season 9 happened, even twilight's ascension and spike's scale shedding ordeal, but twilight doesn't become a princess and the golden oaks library was never destroyed, and all those friendship missions were from celestia. And the school of friendship doesn't exist, and in the movie, the 3 princesses and not twilight put on the friendship festival, twilight and her friends just helped set it up and then did their hero thing.
After all the EQG movies, Sunset moves back to Equestria permanently
AJ's friend Rara gave up her life as a singer to be with Applejack.
Most of the inhabitants of Equuis are one.
One more thing, I'm running this as an interactive story, I.E. you can suggest prompts, anything goes as long as it follows these parameters
It has to set in the current time frame of the season
It must be school appropriate on the university level
Can't be season finale type stuff unless we're a good ways in to the story and a season finale seems appropriate.
ENJOY!
Now that's a cover worthy of this story, all rights go to their respective owners. Hope you guys like it!
Chapters (5)