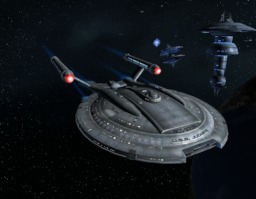 Source
Friendship, the Final Frontier.
When a Starfleet ship discovers that the Orion Syndicate is enslaving ponies, her commander decides to do a good deed and return the rainbow-maned pegasus home to Equestria. Things don't go smoothly for the crew of the USS Judges, but what they find may be one of their biggest discoveries ever.
A Friendship Is Magic/Star Trek Online crossover.
Chapters (13)