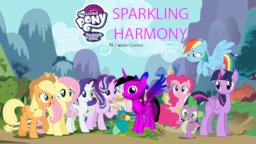 When a mare moves to Ponyville, she expected to find what her parents have told her. That Ponyville is a place for all of ponykind to live together in harmony. And she does find that to be true...but she fears that her biggest secret will ruin her new life in the not-so-quiet town.
What will happen when she meets a certain group of mares? Only time will tell.
If you like the story, how about an upvote? If this story gets 100 likes I'll release the third chapter of a new side story set in the Sparkling Harmony universe. Like if you want to see that.
AU CHANGES:
Takes Place during season 8 and beyond, but Cozy Glow doesn't exist.
Celestia and Luna NEVER retire and hoof over the throne to Twilight.
OTHER NOTES:
As the story progresses, tags and characters will be added as deemed necessary
ALL ELEMENTS USED IN THE COVER BELONG TO THEIR RESPECTIVE OWNERS!
Chapters (32)