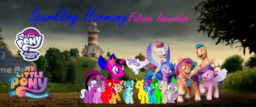 This story is a sequel to My Little Pony: Sparkling Harmony: Repairing Burnt Bridges
---
While visiting Twilight's twin sister Night-Mare in her observatory in Detrot, An accident involving more than a dozen different Alicorns' magical signatures flings Sparkler, Flurry Heart, the nine Medley kids, and Spike to someplace they never expected.
Now, trapped in a distant future where magic isn't as reliable as usual, Sparkler and her family must find a way back to each other, and then back to their own time.
Luckily, they'll have help from new friends along the way.
---
I had to do it. It was too good of a story idea to NOT do it. Lol.
For this one, Sunny is an Alicorn. I don't care what the official material says, this will be an AU anyway.
screenshot_2022_03_03_003002_by_importantcomponent_df12h6w-fullview.jpg (1280×173) (wixmp.com)
Here are all the tags for this story. Why am I doing it like this? Because some genius out there thought it was a good idea to have the option to turn on tag colors, and then have a limiter that IGNORES that and treats all tags as blue tags. Like, seriously, Why have both if they essentially go against each other?
Anyway, enough of me ranting. If this story gets 25 likes I'll add to Sparkling Storytime.
Chapters (41)