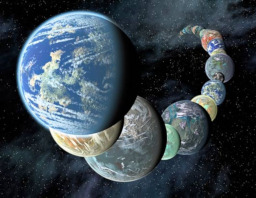 The first trotters, exploring the Long Trot, had found no trace of modern pony away from Prime. Certainly, there were some stone tools, fossilized remains of hearths in the depths of caves, and even a few equine bones. But there was no great gallop forward: no cave paintings, no burial mounds, no cities, no technology. The spark of Harmony must have been lit behind millions of protopony brows on a million worlds, just as on Equestria Prime, but it hadn't caught anywhere else.
There were equinoids out there, descendants of lost cousins of pony-kind, but ponies knew they would never encounter another creature that was anything as smart as they were. Never something that could speak Equuish, for example.
The only thing wrong with this generally accepted picture was that it was totally incorrect.
Chapters (4)