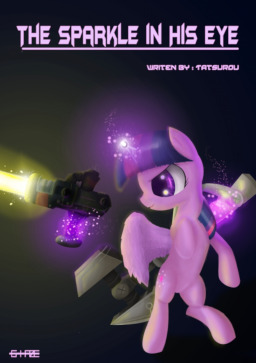 Source
In a remote corner of the Solana Galaxy lies a backwater planet called Veldin. Nothing important ever happens there. Nothing exciting, either. Ratchet, a Lombax with no idea of his origins, is beginning to grow bored with his life, and dreams of excitement. He wishes on a falling star for some excitement to find its way into his life.
The falling star answers by crashing into his home in the form of a basket carrying a tiny creature with a horn, a pair of wings, and four hooves. The name on the basket reads "Twilight Sparkle".
----
Part of the PWNY-verse.
Edit: Now with cover art by the amazing G_Haze
Video Consultant/Technician: m2pt5 (he provides the infobot videos and similar.)
Edit: Game Timeline
Ratchet and Clank: Done
Going Commando: Done
Up Your Arsenal: Done
Deadlocked: Done.
Size Matters: Done.
Tools of Destruction: Done.
Quest for Booty: Done.
Crack in Time: Done.
All 4 One: Done.
Into the Nexus: Done.
Chapters (226)