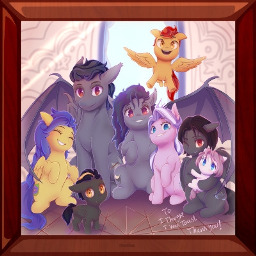 Source
This story is a sequel to She Drives Me Batty
---
A family of one is as good as a family of none. Each voice it holds adds yet more richness and echoes to the depths of the cave, and it's often best to take a step back and listen to the song a family makes as a whole.
This is an anthology of one shots running parallel with She Drives Me Batty. Each and every one of them are going to be from PoVs outside of Night's to better look into the lives of her family in ways I can't or don't want to explore in the main story. Each one shot will be marked with it's narrator and any additional tags.
A Batty-verse Story Reading Just a Little Batty and She Drives Me Batty first is highly recommended to avoid any confusion.
Cover Art Artist is KatChan
Prereaders and Editors:
Dreams of Ponies
jowijo
Level Dasher
Chapters (5)